A jaw clip is a perfect way to put your hair up for the day. It can be worn with or without extensions, and you can even use it to create a bun or ponytail if you're in a hurry. Wrap strands of hair around it and secure with bobby pins. You'll get an elegant look that's quick and easy.
Do you ever get tired of your hair getting in the way? I know I do. Sometimes, it's nice to be able to put it up for a while and then take it down afterward. It can be hard to find a way that is both easy and elegant, though. Luckily, there are some great options out there. For instance, this blog post will teach you to use a jaw clip to tie back your hair with ease. So keep reading if you're interested.
Ways to style claw clips
If you're tired of the same old ponytail, try a jaw clip! It will give your hair fun and flirty look. We'll show you how to get the perfect up-do with a jaw clip. Follow these steps:
Gather all your hair in one hand at the top of your head.
Take a small section from that pile and divide it into two pieces
Twist each piece tightly around itself
Put on a jaw clip
With both hands, twirl the twisted strands together to create an updo
Tuck any loose ends under
Adjust clips for the desired effect
If you want to look put together in the office but don't have time for an elaborate hairstyle, this is a no-fail way to keep your hair out of your face.
A jaw clip can be used as an alternative for securing hair on top of one's head, or it can be used to create a french braid at the nape of your neck. The best part about using a jaw clip is that you don't need any fancy equipment, and it will last all day long. You need some hairspray and bobby pins (optional).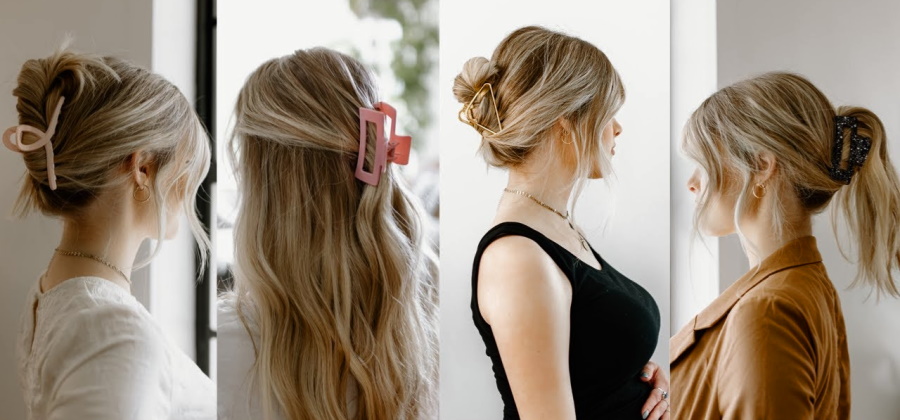 Jaw clip hairstyles for all hair lengths
If you are looking for a way to keep your hair up but still look stylish, try using a jaw clip. Jaw clips are easy to use, inexpensive, and will hold any hairstyle in place without the need for pins or hairspray.
This is an effective way to keep your hair out of your face when working with messy products like mud masks or peel-off gels. It's also great for women who want their hair in a high ponytail but don't want the hassle of tying their hair back with an elastic band. These jaw clips can be purchased online at various beauty supply stores for under $5 each, depending on how many you buy at once.
A jaw clip is a must-have hair accessory for anyone who wants to keep their hair out of the way. Jaw clips are easy to use and don't require any special skills or tools – you can put your hair up in seconds with just one hand. In addition, they come in a variety of shapes and sizes, so you can find the perfect jaw clip no matter what kind of hairstyle you're looking for. So whether you want to add some volume or hold back flyaways, there's a jaw clip that will do it without sacrificing style.